Finding the Sweet Spot of Quality, Speed and Affordability in Sushi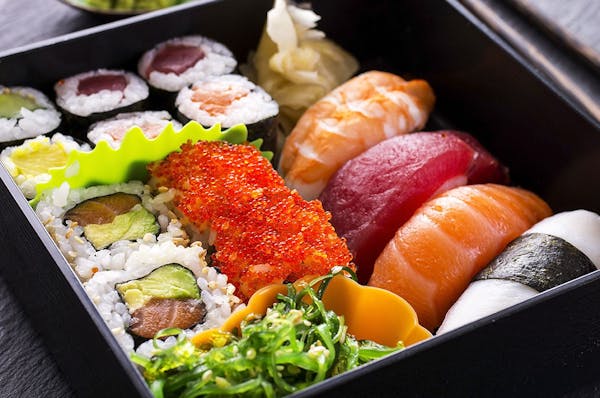 Sitting at a sushi counter in NYC and ordering directly from the chef is considered a luxurious treat and can easily cost $100 or more for dinner. Throughout the United States, there is a unique struggle of finding quality sushi for a decent price.
Sushi generally comes in two forms – slow and expensive or cheap and inedible. In other words, there is no such thing as fast, affordable, delicious sushi out there in the market – until now. By focusing just on sushi rolls and re-engineering the process of making them, along with introducing robotics, MakiMaki has created what the consumer market has been looking for all this time.
Their fresh made-to-order sushi rolls are cheaper than Wholefoods and other premade deli's, uses the highest quality ingredients, and fish are always fresh as high demand leads to faster inventory turnover. It's a match made in heaven scenario!
The Mastermind Behind the Sushi
Former engineer and Founder of MakiMaki, Kevin Takarada, comes from a family background of restauranteurs however Kevin never wanted to pursue a career in restaurants as it was not conducive to proper family building – long nights and on weekends. However, after a long and windy career path that took him through mechanical engineering as well as in finance did he discover his entrepreneurial spirit. Specifically, when studying for his level-two certification in the Chartered Financial Analyst preparation, it dawned on him that there was no such thing as good affordable quick sushi. He had the restaurant background, the engineering background to re-engineer the process, as well as financial background to come up with a product that the current market needed exactly – affordable quick good sushi.
Fast, Affordable, Delicious Sushi
To serve four- to five-star sushi at affordable prices, Takarada prioritizes fresh fish cut on-premise the same day, well-seasoned high-quality rice, nori seaweed of the highest quality imported directly from Japan, and lots of robotics.
An article published in Crain's New York Business describes Takarada's morning routine perfectly, "Each morning Takarada's cooks slice fresh fish, put spicy tuna and salmon mixtures in pastry bags so workers can pipe them onto rolls. The rice and vinegar seasoning are mixed together by a machine that uses a slicing motion that would tire out a human. Upstairs, when customers order, employees behind the glass bar grab a piece of nori and place it over rice patty that is already stamped out into a rectangle shape. They add the requested filling before passing the maki down to a trained sushi chef, who does the rolling and cutting. Takarada greets and thanks each customer in Japanese."
The spicy tuna rolls costs only $7.5, which is 50% less than most in the area. MakiMaki can make 250 rolls per hour and maintain positive profit margins despite their bargain prices.
Authentic Sushi Experience for Fraction of The Price
MakiMaki offers two formats of sushi rolls, a traditional 8-piece cutup maki as well as cone-shaped temaki or hand rolls. Their hand rolls are unique because the seaweed comes wrapped in a proprietary-designed plastic film that ensures crispiness and freshness of the roasted nori.
MakiMaki pioneered this unique and engaging approach to enjoying fresh, tailor-made sushi that combines "in-and-out" pace with high quality and authenticity and our ultimate mission is to bring this experience to every New Yorker.
Come find out how found the sweet spot of quality and affordability in sushi!